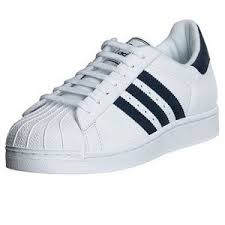 MY ADIDAS
"standin on 2 Fifth St.
funky fresh and yes cold on my feet
with no shoe string in em, I did not win em
I bought em off the Ave with the black Lee denim"……
You Know the Rest… Classic Material!!!
The Superstar is a basketball shoe manufactured by the athletic goods company Adidas since 1969. The Superstar shoe originally released as a low-top version of the Pro Model basketball shoe is nicknamed the "shelltoe", for their rubber shell toe piece. Their iconic design is known as one of the major influences in the sneaker culture.
Over time, the "shelltoe" would advance from the court to the sidewalk and, consequently, further into the public's consciousness.  In 1983, Run-D.M.C, from Hollis Queens, NY, refused to conform to pop standards by deciding that they would dress on stage the way they dressed on the streets. The trio was most notable for wearing the "shelltoe" without any laces and pushing the tongue of the shoe out. The "shelltoe" received a lot of promotion from the rap group as they went out on tours across the US, which increased sales of the Superstar shoe.  Still today, the "shelltoe" is worn by many… in fact, I'm wearing all black as I peck away at the keyboard…
"my Adidas and me, close as can be
we make a mean team, my Adidas and me
we get around together, rhyme forever
and we won't be mad when worn in bad weather"
MY ADIDAS