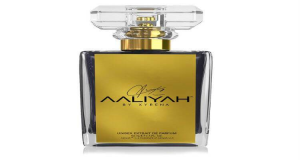 Xyrena announced today that it is releasing Aaliyah by Xyrena, a fragrance tribute to the late performer, who was known as the "The Princess of R&B." This first and only official Aaliyah fragrance was developed in close collaboration with Diane & Rashad Haughton, the singer and actress's mother and brother. It comes 14 years after her tragic passing.
"I grew up with Aaliyah's music," said Killian Wells, CEO of Xyrena. "As a huge fan, this is a very personal release for me and my company. We set out to create a fragrance to be cherished by Aaliyah's fans and also introduce her to a new generation."
By consulting with both her mother and brother, Xyrena was able craft a true aromatic tribute inspired by actual fragrances Aaliyah wore. The resulting fragrance is unisex but leans masculine, as Aaliyah favored traditional men's scents in line with her signature, sexy tomboy image. The formula is also a hue of black, which was Aaliyah's favorite color. Aaliyah by Xyrena has base notes of vanilla, sandalwood, amber, and jasmine; middle notes of black pepper, violet and leather; with top notes of mint, lavender and mandarin.
"It has been wonderful working with Xyrena to create an incredible fragrance that embodies the beauty, mystery, and creativity that my sister infused into every aspect of her life," said Rashad Haughton, Aaliyah's brother.
Aaliyah by Xyrena is a luxury Extrait de Parfum and is available for pre-order (at Xyrena.com/Aaliyah) starting today for $64. Shipments will begin in mid-October. Xyrena will donate 5% of the gross sales from the fragrance to The Aaliyah Memorial Fund.
Xyrena has released an official commercial spot, which can be viewed at Vimeo.com/Xyrena/Aaliyah. The high-energy spot features a group of talented young dancers including popular Vine stars Joey Arias and Fiña DuBois.
ABOUT XYRENA:
Based in Los Angeles, Xyrena is the world's first celebrity-partnered on-demand perfumery. Xyrena was founded by Killian Wells, who coined the name as a compound of two terms, XY for Male and Female chromosomes (echoed by the brand's unisex fragrances and cosmetics) and RENA, from the Latin word renascor, which means "to be renewed or reborn." Certified 100% vegan and cruelty-free by PETA, Leaping Bunny, and Vegan Action, Xyrena offers fragrances that fuse the upscale quality of niche cosmetic brands with the added personality of celebrity curation.