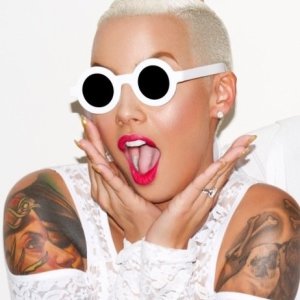 Simon & Schuster imprint Gallery Books announced Wednesday February 18th… that model Amber Rose will write How to Be a Bad Bitch.
According to Billboard, the book, scheduled for publication on Oct. 27, 2015, will share Amber's secrets on how to be successful, covering love, beauty, fashion, finances and a career, as well as advice for confidence and self-acceptance.
In a statement, Rose says a "bad bitch" is a "self-respecting, strong female who has everything together. This consists of body, mind, finances and swagger; a woman who gets her by any means necessary."
The 31-year-old recently made headlines for publicly fueding with reality star Khloe Kardashian.  The Twitter war began when Rose spoke to New York's Power 105.1 about Kardashian's family and Kylie Jenner's alleged relationship with rapper Tyga.