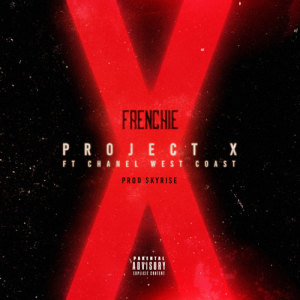 Frenchie, Brick Squad Monopoly Artist and label owner of Protekted Records, has been working hard in the paint. He is set to release his blazing new single "Project X", an EDM meets Hip Hop track. It features YMCMB signee Chanel West Coast and is produced by 19-year-old Detroit producer Skyler "SKYrise" Kallabat. Frenchie previously worked with Chanel on his smash hit "Ain't Goin Nowhere" featuring B.O.B and the YMCMB princess. "Project X" has a strong Detroit sound, Frenchie holds nothing back as her murders the track.
Frenchie spits:
Imma get this party so live, I'm so high,
You need to come smoke with ya, Boy,
Mad love, girl sleeping in a bathtub
Too drunk can't make the sink,
who's cleaning this damn rug
Frenchie and Chanel filmed the visuals for "Project X" last Wednesday at Pontiac's Elektricity nightclub. The video was directed by Gerard Victor, who has helmed videos for Black Milk and Fabolous, among others. Frenchie and Chanel also held a Meet and Greet at Pogo in Birmingham. "Project X" is scheduled to be released on Chanel's debut album "The Life," which has been in the works for some time and is tentatively due out this summer.
Look out for Frenchie's untitled freshman set which is projected to drop this fall via his Protekted Records imprint and will include "Project X".
Recent Press
http://www.detroitnews.com/story/entertainment/music/2015/05/07/rapper-singer-chanel-west-coast-keeps-party-going/70937224/
To keep up with Frenchie on social media check out the links below:
Twitter: @FrenchieBSM https://twitter.com/FrenchieBSM
Instagram: @FrenchieBSM http://instagram.com/p/ubLgMGhKFk/
Souncloud: https://soundcloud.com/frenchiebsm
To keep up with Chanel West Coast on social media check out the links below:
Twitter: @chanelwestcoast https://twitter.com/chanelwestcoast
Instagram: @chanelwestcoast https://instagram.com/chanelwestcoast/
Facebook: https://www.facebook.com/chanelwestcoast
YouTube: https://www.youtube.com/ChanelWestCoast
About Frenchie
From the gritty streets of South Jamaica Queens, to his critically acclaimed mixtapes like "Long Overdue", "The Concrete Jungle" and his recently released EP "Fukk Fame", Greg "Frenchie" Hogan, an original member of Brick Squad Monopoly, Hip Hop Artist and label owner of the recently launched Protekted Records is a visionary who implements his amazing capacity for music in each and every masterpiece that he works on. A Queens native, and Atlanta transplant Frenchie, was exposed to the many hardships of his environment but was determined to succeed and not become a product of it.
"To be honest, I grew up around a lot of ignorance. The older people that I looked up to, they were jackers; robbers. I was a part of it, too; but I always wanted more." Frenchie displays a brutal honesty in describing his come up.
Using music as a path to achievement, fourth-grade ciphers graduated to sixth-grade battles, and circumstantial yet pre-destined familial ties led to music as the only career option. "My family runs deep – my cousin Bimmy used to be an A&R at Def Jam, and DJ Hurricane – my uncle – was the Beastie Boys' DJ." Add that to the fact that Debra Antney is his aunt, and Waka Flocka is his blood cousin you see how Frenchie wasn't left with much of a choice – succeed in music, or stay in the hood.
A constant tour de force of videos, work, and tours, Frenchie's Internet presence is a sight to behold: a quick WorldStarsearch brings forth over forty self-produced music videos, and his YouTube presence includes videos spanning back several years, and millions of collective views.
Showing no signs of slowing up, Frenchie's onslaught will continue with the release of his debut album, scheduled to drop this summer. The album will feature B.O.B, Gucci Mane, Waka Flocka, Jerry Wonda, Migos, Yo Gotti and more. Having done features with a broad range of Southern stars (Juicy J, Project Pat, Yung Joc, Gorilla Zoe, Soulja Boy), family members (Gucci Mane, Waka Flocka, Wooh Da Kid), and East Coast up-and-comers (French Montana, John Depp, Webstar, and the late G. Baby), Frenchie's groundwork has laid a solid, universal foundation. Success is only a step away.
About Chanel West Coast
Chanel West Coast is an American rapper, singer-songwriter, actress, model and television personality. She came to prominence for her roles in MTV's Rob Dyrdek's Fantasy Factory and Ridiculousness. Chanel is signed to Lil Wayne'slabel Young Money Entertainment. She released her critically acclaimed mixtape "Now You Know" in 2013.The mixtape featured Evan Ross, French Montana, Snoop Dogg and Robin Thicke. Riley Sky of Dropkick Divas Media gave the mixtape a grade of B-, saying "Now You Know accomplishes the mission of selling West Coast as an independent woman, its' hip-hop-inspired vibe makes "Now You Know" fiercely individual". Chanel promoted her mixtape by going on two headlining tours; the Punch Drunk Love Tour and the Now You Know Tour. She also released a music video for"Been On", featuring French Montana.
Chanel's collaboration with Shanell "Hittin Like" won a BET Music Award in 2014.
About KLPR Group
KLPR Group, LLC is a New York – based boutique public relations, marketing and communications consulting firm catering to a broad based clientele in the worlds of entertainment, lifestyle, fashion and music. KLPR Group was founded 6 years ago by publicist and brand architect Kathy Liautaud who built her resume working with Wyclef Jean, Jerry Wonda, Rich Dollaz, BET, MTV, Angela and Vanessa Simmons and working as a freelance consultant with AKOO, Parish Nation and Triple Fat Goose and Born Fly. A seasoned and accomplished branding guru and publicist. Ms. Liautaud started her firm when she saw there was a void in the public relations, marketing and branding realm that catered to the urban market. KLPR Group offers a more personalized, innovative and cohesive brand solution.
KLPR Group are experts in executing strategic and compelling marketing, publicity and branding campaigns that are distinctive, powerful, and caters to their clients needs. KLPR Group specializes in brand management, lifestyle marketing, media/celebrity events, public relations, product placement, fashion styling, image consultant, promotions, special events and brand development. Management skill set includes strategic partnership development, client relationship building, product launches, product seeding, market analysis, promotional opportunity evaluation, strategic planning, procuring sponsors, and program budgeting. Extensive contacts among celebrities and media/press with in-depth experience in creating and managing celebrity/media events for new product brand identification and public recognition.