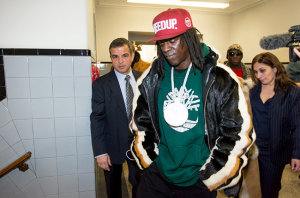 Accordign to Billboard… Authorities in Las Vegas say entertainer Flavor Flav has been arrested on allegations of driving under the influence, speeding, possessing less than an ounce of marijuana and having an open container of alcohol in the 2005 black BMW he was driving.
Nevada Highway Patrol spokesman Loy Hixson said Thursday (May 21) that the 56-year-old entertainer was pulled over as he entered Interstate 15 southwest of McCarran International Airport around 12:30 a.m. for going 73 mph (117 kph) in a 45 mph (72 kph) zone.
Hixson says Flavor Flav also had a suspended driver's license and registration. He faces several misdemeanor charges.