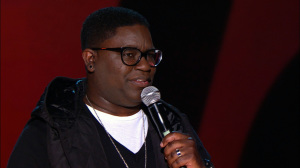 Introducing a very RELevant friend of Kevin Hart's! Lil Rel Howery's first one-hour stand-up special, "Kevin Hart Presents: Lil Rel Howery: RELevant," premieres on Comedy Central on Saturday, September 5 at 11:00 p.m. ET/PT.
The special showcases Rel's captivating storytelling style and his uncanny ability to transport audiences into his hilarious world of loveable, outrageous characters. Filmed at The Vic Theatre in Chicago, the special includes stories from Rel's time in Chicago getting roasted by high school students, the ridiculousness of hoodrat conversations, the time he got an unexpected whooping from a Chicago cab driver, how his son, Judah, has gotten him into trouble by not having a filter yet and how grateful he is that he'll have a daughter to take care of him when he gets old.
Leading up to the on-air premiere, Comedy Central Stand-Up will feature preview clips from the special. Fans can follow Lil Rel on Twitter at @LilRel4 and tweet using the hashtag #RELevant.
"Kevin Hart Presents: Lil Rel Howery: RELevant" will be available on September 6 on the Comedy Central App to fans that sign in via their cable or satellite provider. The Comedy Central App is available for iPad and iPhone on the App Store, Android on Google Play, Roku, Xbox One and Chromecast.
This summer, Lil Rel can be seen on the much buzzed about comedy series "The Carmichael Show," which premieres on NBC on Wednesday, August 26 at 9:00 p.m. ET/PT and also stars Loretta Devine and David Alan Grier. Also this summer, Rel can be seen in season two of the "gleefully absurd" (Chicago Sun Times) weekly sketch comedy show "Friends of the People" airing on TruTV; Rel stars in, writes, and executive produces the series.
In addition to his comedy series and specials, Rel was a semi-finalist on NBC's "Last Comic Standing," followed by show-stopping performances on Comedy Central's "Comedy Underground with Dave Attell" and "The Half Hour," BET's "Comic View," HBO's "Diddy's Bad Boys of Comedy," Showtime's "Shaquille O'Neal Presents: All Star Comedy Jam," Comedy Central's "Russell Simmons Presents Stand-Up at The El Rey," and "The Arsenio Hall Show." He has appeared on Nickelodeon's "NickMom Night Out," E!'s "Chelsea Lately," and he has lent his voice to the popular FXX animated series "The Lucas Bros Moving Co." Rel was listed as one of Variety's 10 Comics To Watch at the 2012 Just For Laughs Festival in Montreal.
Earlier this year, Kevin Hart starred on the silver screen in "The Wedding Ringer" and "Get Hard," opposite Will Farrell. Hart can also be seen on the road for his "What Now" Comedy tour, and in 2016, Hart will star in "Ride Along 2." Previously he has starred in "Think Like a Man," "Think Like a Man Too," "Ride Along," "Grudge Match" opposite Sylvester Stallone and Robert DeNiro, and "About Last Night." Hart also had a supporting role in the Nick Stoller comedy "Five Year Engagement," produced by Judd Apatow. He is a force in television too, executive producing the hit BET show, "Real Husbands of Hollywood." In 2009, Hart's one-hour Comedy Central special "I'm A Grown Little Man" became one of the highest rated specials for the network, and in 2010, Hart's DVD "Seriously…Funny" was one of the fastest selling DVDs, going triple Platinum, aided by the Comedy Central special of the same name. In September 2011, Hart released "Laugh At My Pain," the feature film version of his comedy tour.
"Kevin Hart Presents: Lil Rel Howery: RELevant" is executive produced by Hart, Brian Volk-Weiss, Dave Becky, Mike Berkowitz, Cisco Henson and Avi Gilbert.
Comedy Central, the #1 brand in comedy, is the home for the biggest names in stand-up including recent one-hour specials from Daniel Tosh, Kevin Hart, Gabriel Iglesias, Amy Schumer,
Anthony Jeselnik, Aziz Ansari, Chris Hardwick, Hannibal Buress, John Mulaney, Pete Holmes, Nick Kroll, Patton Oswalt, Jim Gaffigan, David Spade, Tracy Morgan, and more.
Comedy Central stand-up series include "Adam Devine's House Party," "The Meltdown with Jonah and Kumail," "Gabriel Iglesias Presents Stand-Up Revolution," "The Half Hour," "Comedy Underground with Dave Attell" and "This is Not Happening."
Viacom is home to premier global media brands that create compelling television programs, motion pictures, short-form video, apps, games, consumer products, social media and other entertainment content for audiences in more than 165 countries and territories. Viacom's media networks, including Nickelodeon, Comedy Central, MTV, VH1, Spike, BET, CMT, TV Land,Nick at Nite, Nick Jr., Channel 5 (UK), Logo, Nicktoons, TeenNick and Paramount Channel, reach a cumulative 3.2 billion television subscribers worldwide. Paramount Pictures is a major global producer and distributor of filmed entertainment. For more information about Viacom and its businesses, visit www.viacom.com.