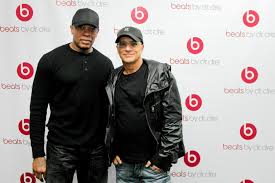 It's being alleged that Dre and Iovine duped their former partner prior to the sale of Beats to Apple.
The complaint filed Tuesday (Jan. 6) in San Mateo Superior Court accuses Dre and Iovine of double-crossing Noel Lee, the founder of audio cable maker Monster.
According to Billboard, Lee once held a 5 percent stake in Beats as part of a partnership between the headphone maker and Monster that ended in 2012. The lawsuit alleges Dre and Iovine orchestrated a "sham" deal that helped terminate the Monster alliance.
The suit alleges the shady maneuvering cost Lee tens of millions of dollars.
Apple Inc. declined to comment on the lawsuit.