LOGIC BUILDS ON MOMENTUM OF UNDER PRESSURE's TOP 5 SOUNDSCAN DEBUT WITH NEWS OF 47-CITY U.S./EUROPE TOUR !
TOUR OPENS JAN. 27th IN INDIANAPOLIS, INCLUDES PRESTIGE DATES AT WILTERN IN L.A., WEBSTER HALL IN NYC, REGENCY IN SF, AND MORE !
UNDER PRESSURE HAILED AS ONE OF 2014's BEST RAP ALBUMS, NOMINATED BY MTV NEWS AS "RAP ALBUM OF THE YEAR CONTENDER"!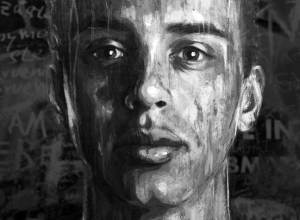 (Dec. 2, 2014 – New York, NY) Maryland-based rapper Logic keeps the momentum surging after the colossal Top 5 Soundscan debut of UNDER PRESSURE (released October 21st on Def Jam Record­ings), hailed as one the best hip-hop debut albums of the year. Logic will kick off 2015 with a major 47-city tour of the U.S. and Europe, his fourth national headlin­ing tour of the U.S. and his second run in Europe. The tour opens January 27th in Indianapolis, and will include such notable venues as the Wiltern Theatre in Los Angeles, Webster Hall in New York City, the Fillmore in Silver Spring, Maryland, the Riviera Theatre in Chicago, and the Regency Ballroom in San Francisco.
Prior to the release of UNDER PRESSURE, Logic had sold over 50,000 tickets to his performances. He played three national headlining tours off of mixtapes alone – selling out venues including the Wiltern in L.A. and Irving Plaza in New York City. He had also toured inter­nationally, sharing the stage with Kid Cudi, Big Sean, and others.
Raves for UNDER PRESSURE exploded across the media, with Huffington Post crowning it "2014's Best Hip-Hop Album So Far," Starpulse concurring with "Rap's Biggest Triumph Of 2014," Artist Direct calling it "The Best Debut of 2014," and MTV News nominat­ing it as "Rap Album Of The Year Contender." The buzz around Logic landed him a perform­ance in November on NBC's The Tonight Show starring Jimmy Fallon, Logic's national television debut.
The week before Jimmy Fallon, Logic opened up to USA Today's "On The Verge" with an in-depth interview that "confirmed his rise from hot underground prospect to national hip-hop star." Said Logic, "I wanted to keep [the album] musical but still very hip-hop. It's very humbling to know that because of this album I'm reaching people that I didn't have an opportunity to reach before." For Logic's work ethic, sense of competition, his affection for Frank Sinatra, and more, go to http://www.usatoday.com/story/life/music/2014/11/09/on-the-verge-logic-hip-hop-under-pressure/18557047/
24-year old Logic was signed to Def Jam in 2013 by Executive Vice President of A&R, No I.D. (who went on to serve as executive producer of UNDER PRESSURE). The 2013 signing coincided with XXL magazine naming Logic to its 'Freshman 10' list, a highly competi­tive annual survey that showcases the brightest young up-and-coming personalities in hip-hop. Logic joined a notable lineup that included Ab-Soul, Action Bronson, Angel Haze, Dizzy Wright, Joey Bada$$, Kirko Bangz, Schoolboy Q, Travi$ Scott, Trinidad James, and (named as the "11th Freshman"), Chief Keef.
A broken home, a dysfunctional family, skirmishes with drugs, and life on the streets conspired to shape Logic's graphic, hardcore flow. His influences run from Wu-Tang Clan, the Roots, A Tribe Called Quest, and Nas, to Red Hot Chili Peppers and Miles Davis. At the same time, he was profoundly influenced by the life and times of Frank Sinatra, whose histories and movies were a part of Logic's youth as his mother exposed him to the original Rat Pack leader. In turn, Logic named his own crew of close associates the RATTPack (as in "Real All The Time"), including his producers, his manager, and close fellow rappers..
Logic's clips have collected more than 30 million views since 2010. His Young Sinatra mixtape trilogy began in 2011, with the release of Young Sinatra, featuring the single and viral video "All I Do." Young Sinatra: Undeniable arrived in 2012, featuring "The Spotlight." Young Sinatra: Welcome to Forever was released in 2013, containing tracks produced by No I.D., Don Cannon, Arthur McArthur, Swiff D, C-Sick, Kevin Randolph, and 6ix.
"So many people think they can rap," Logic said on the VMG website, "and they just want a deal and the glitz and the glamour and the women but they don't understand that all I do and want to do is rhyme. I engineer, mix, master, record, produce all of my own music and I think I've sacrificed so much from my relationships to my friendships to my family; I've literally sacrificed my entire life and I'm honest."