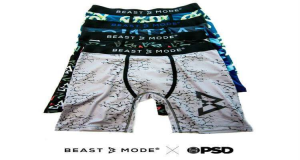 BEASTMODE®, the apparel & lifestyle brand of NFL star, Marshawn Lynch, has entered into a partnership with high-end underwear company, PSD, to develop a collection of co-branded products initially designed for men.
"I got some PSD underwear and I liked how they fit. I decided to co-create the BEASTMODE® x PSD line so my fans can look good and be comfortable in any situation," said Lynch.
Lynch and his design team worked closely with PSD to develop his own hard-hitting take on men's boxer briefs. The co-branded BEASTMODE® x PSD line will be launching in time for the holiday 2015 season worldwide and can be found in national retailers such as Champs, Footaction along with specialty retailers like Dr. Jays and Shoe Palace.
"Marshawn only puts BEASTMODE® and his name on brands that he likes. We are honored to have him and his BEASTMODE® team as collaborators. PSD is known for celebrating authenticity and great design," explains PSD Founder and President, Curtis Flaitz. "We are looking forward to unveiling the BEASTMODE® line in stores this holiday season."
PSD has established significant credibility with top professional athletes and tastemakers as a comfort brand that innovates through contemporary patterns and fabrics. With a unique take on athleisure, PSD helps their loyal fans wear their life.
About PSD:
The signature PSD woven waistband is the telltale sign that defines the premium brand. Kyrie Irving will lead an influential group of professional athletes including; NBA player Chandler Parsons, NFL wide-receiver and fashion icon, Stevie Johnson, and BeastMode proprietor, Marshawn Lynch, as endorsers of PSD luxury briefs and undergarments in 2015/2016. PSD, founded by brothers Curtis and Ryan Flaitz in 2008, has quickly evolved into a notable lifestyle accessory brand adopted by many professional and influential entertainers. PSD is focused on on-trend prints, comfort and performance. Wear Your Life means everything to this family business that has achieved industry wide recognition. For more on PSD and the brands grassroots story visit psdunderwear.com
About BEASTMODE:
BEASTMODE is the lifestyle and apparel brand of NFL star running back, Marshawn Lynch. Growing up in Oakland, California, Marshawn Lynch was a four-sport high school star excelling in football, basketball, track and wrestling. His talent led him to the University of California where he became the school's second all-time career rusher. The NFL took notice and the Buffalo Bills drafted Lynch in the first round of the 2007 NFL Draft. In the 2013 season, Lynch was a large factor in bringing the Seattle Seahawks to their first Super Bowl victory. More recently, Lynch and the Seahawks agreed to a 2-year contract extension, where Lynch will remain for the upcoming seasons. For more information, please visit beastmodeonline.com
SOURCE PSD Underwear