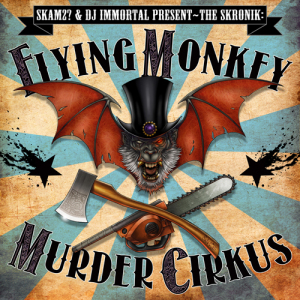 Many say the Hip Hop game lacks creativity… Well… SKAM2? only knows creativity…
Since dropping underground classics alongside a young Marshall Mathers, the multi talented artist, SKAM2?, has mastered other artistic pursuits, whereby becoming one of the most sought after illustrators in the industry, providing iconic artwork for the aforementioned Detroit rapper, as well as A Tribe Called Quest, Dizzy Wright, La Coka Nostra (Ill Bill & Slaine), Sa-Roc, Blu, and DJ EFN, among countless others.
On "LOT3R (Lord of the 3 Rings)," SKAM2? merges his pen game–both as a wordsmith, and visual artist, to showcase the next leak off his forthcoming project, Flying Monkey Murder Cirkus (FMMC). With Dizzy Wright (Funk Volume) on the intro, SKAM2? offers a time-lapsed glimpse into the design process of the cover art. Press play, and watch the Cirkus come to life, while he chronicles some of his darker visions over the guitar drenched instrumental, produced by, Kato.
In promotion of FMMC, SKAM2? is launching an online contest with 2DopeBoyz (U.S. residents only), where you can enter to win a signed limited edition print of the cover art…good luck. FMMC drops on April 15th, stay tuned!