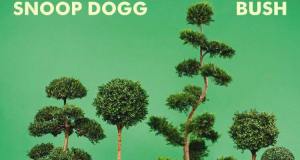 STREAM SNOOP DOGG'S ALBUM BUSH ON ITUNES ONE WEEK BEFORE MAY 12TH DATE
SNOOP & PHARRELL WILLIAMS SHARE EXCLUSIVE INSIGHT TO ALBUM CREATION IN NEW VIDEO
NEW SINGLE 'CALIFORNIA ROLL' PLAYED HOURLY ON iHEARTRADIO; PRE-ORDER ALBUM NOW AND RECEIVE NEW SONG 'CALIFORNIA ROLL' FEATURING STEVIE WONDER IMMEDIATELY
Entertainment icon Snoop Dogg and Pharrell Williams have shared exclusive insight into the creation of select tracks, including "California Roll" featuring Stevie Wonder, off of Snoop Dogg's new album BUSH in advance of the May 12th release date. Fans can get an intimate look of the creative process between the two online here: http://smarturl.it/BUSHtracksSnoop Dogg shared a pre-release stream of his highly anticipated album BUSH on iTunes radio, a full week prior to its official release on May 12th. The album's new single "California Roll" was rolled out in style for Snoop followers, with iHeartRadio having played the new track hourly on their Urban and Urban AC stations and at various times throughout the day at select Urban AC Stations.
Produced by multiple Grammy award-winner Pharrell Williams, BUSH is a creative partnership between Doggystyle Records, I Am OTHER and Columbia Records and available for pre-order now here: http://smarturl.it/BUSHAlbum. Those who pre-order the album will receive "California Roll" as an instant grat track, as well as other BUSH kick-off hits made available to pre-ordering fans, "Peaches N Cream" and "So Many Pros."
Considered a fearless creative trailblazer, Snoop Dogg recently released a much-buzzed about video for the track "So Many Pros," with the clip paying homage to the highly stylized 'Blaxploitation' urban action movies of the 1970's.
Click here to check out the official video: http://smarturl.it/ProsVideo.
Snoop Dogg has once again gathered a stellar group of collaborators eager to work with the charismatic artist whose unique bond with fans and peers transcends all entertainment boundaries. The list of contributors appearing on BUSH includes Charlie Wilson, Gwen Stefani, Kendrick Lamar, Rick Ross, Stevie Wonder and T.I.
BUSH'S 'feel-good' launch commenced in March, with the unveiling of the track "Peaches n Cream," which featured Charlie Wilson. The music video for the song was directed by Aramis Israel and Hanna Lux Davis. That clip followed a much-buzzed about lyric video for the song conveyed in picturesque animation and directed by Wolf & Crow.
Snoop Dogg has sold more than 35 million albums worldwide, BUSH is his 13th solo studio album. He has reigned for more than two decades as an unparalleled musical force who has raised the bar as an entertainer and globally recognized innovator. Snoop's successful incarnations within music, film & TV, the Snoop Youth Football League, fashion, brands and technology continues to set him apart as the consummate cultural icon, entrepreneur and philanthropist. His collaboration with friend and fellow-innovator Pharrell Williams and his forthcoming Columbia Records debut BUSH, is the latest offering from one of music's most prolific and revered trendsetters.
Immerse yourself in the world of BUSH with Snoop Dogg and follow BUSH on multiple platforms including:
http://facebook.com/followthebush/http://facebook.com/snoopdogg
http://twitter.com/followthebush/http://twitter.com/snoopdogg
http://instagram.com/followthebush/http://instagram.com/snoopdogg
#FollowTheBush