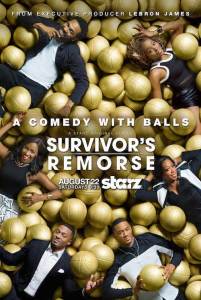 Cam Calloway is a hard-working, young basketball star thrust into the limelight after signing a huge contract with a pro team in Atlanta. In the second season, we see Cam and his cousin and confidant Reggie Vaughn continue trying to navigate Cam's meteoric rise. From business deals to relationships and friendship, the two confront the challenges of balancing the needs of family with the rewards and responsibilities generated by their newfound wealth and fame. Cam, Reggie and the unforgettable group of characters that is the Calloway clan wrestle with the rewards and pitfalls of stardom, love and loyalty.
The series stars Jessie T. Usher as Cam Calloway, RonReaco Lee as Reggie Vaughn, Erica Ash as M-Chuck, sister to Cam; Teyonah Parris as Reggie's wife, Missy; Tichina Arnold as Cassie, Cam's mother; and Mike Epps as Cam's Uncle Julius.
Mike O'Malley serves as Executive Producer and showrunner for "Survivor's Remorse," alongside Executive Producers Tom Werner, LeBron James; sports marketing executive Maverick Carter, Paul Wachter, Victor Levin and Hilton Smith.
For more information visit the "Survivor's Remorse" Facebook page and follow @SRemorse_Starz on Twitter. Join the conversation with #SurvivorsRemorse and #STARZ.
"SURVIVOR'S REMORSE" RETURNS SAT, AUGUST 22 AT 9:30PM ON STARZ
Official Website: http://www.starz.com/originals/survivorsremorse/featured
Official Facebook: https://www.facebook.com/SurvivorsRemorse.Starz
Official Twitter: https://twitter.com/SRemorse_Starz
#SurvivorsRemorse and #STARZ