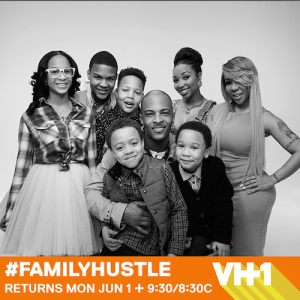 The King of the South is back with the entire Harris brood for the fifth season of "T.I. and Tiny: The Family Hustle" premiering Monday, June 1st at 9:30PM ET/PT. T.I. and Tiny continue to work on their relationship – as their kids grow older and change every day. Niq Niq is ready to leave the nest, making her the first of the Harris children to move out on their own, while Messiah prepares for his driver's license test. Major is no longer the baby he used to be and is looking to follow in his father's footsteps with acting. King's a great older brother to Major and decides to take Major under his wing. With Deyjah and Domani making the transition to adulthood, Tiny stops them in their tracks by showing them just how difficult being an adult can be. The bond between T.I. and Tiny is stronger than ever as they embark on new adventures as a couple and professionally. Together, there's nothing this family can't conquer. Check out this new season as the Harris family continues their hustle.
"T.I. & Tiny: The Family Hustle" is executive produced by 51 Minds' Christian Sarabia, as well as Category 5 Entertainment's Brian Sher and Stella Bulochnikov ("T.I.'s Road to Redemption"). For VH1, the series is executive produced by Susan Levison, Jill Holmes, Kristen Kelly, Fernando Mills and Tricia Biggio.
Join the conversation with @FamilyHustle on Twitter using hashtag #FamilyHustle. Follow "T.I. & Tiny: The Family Hustle" on Facebook.