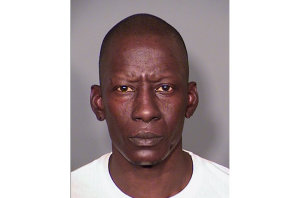 With a name like Crunchy Black… no need to write anymore… I will anyway because this is a bit humorous…
Darnell Carlton… Yup thats Crunchy's real name… was arrested Tuesday in Las Vegas for possession of methamphetamine along with several other charges.
According to Billboard… Local law enforcement stopped Carlton early Tuesday on the strip when he walked into an intersection while the "do not cross" signal was flashing. They found methamphetamine on him, but according to the police report, he'd meant to buy cocaine and told police, "Oh damn. I was trying to buy that powder, not meth."
The Oscar-winning rapper also gave two false names to the police officer before offering up his real name and had two domestic violence bench warrants. He was arrested for those charges, as possession of a controlled substance and failing to obey traffic control devices.