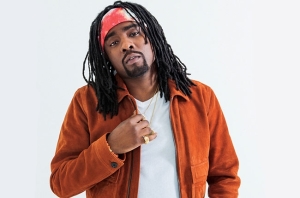 Maybach Music Group/Atlantic Records artist Wale eagerly announces details of his highly anticipated new album, "THE ALBUM ABOUT NOTHING," which arrives everywhere on March 31st. The album's new single, "The Matrimony (feat. Usher) – which Entertainment Weekly called "a pretty spectacular hip-hop ballad" – premiered earlier this week via a blockbuster partnership with iHeart Media, where the song was played on all iHeart media urban mainstream stations and their websites, every hour on the hour. "The Matrimony (feat. Usher)" is now available at all DSPs (http://smarturl.it/WMatrimony) & streaming at http://youtu.be/A0PUGSh0GUU. The album also includes the recent hit single, "The Body (feat. Jeremih)," which peaked at #2 on Mediabase's Urban chart. That song's companion video clip is fast approaching 3 million individual page views at http://youtu.be/zQMMI8itli8.
Adding to all this, "THE ALBUM ABOUT NOTHING" is now available for pre-order via Wale's official web store by visiting: http://smarturl.it/TAANBundle. Fans who purchase this special pre-order bundle will receive a one-of-a-kind Wale snapback as well as a copy of "THE ALBUM ABOUT NOTHING," which will be paired with exclusive artwork, designed by Sue Tsai that is only available online upon purchasing this pre-order bundle. Wale himself will soon unveil two additional album covers, which will be available at physical retailers, when the album is released on March 31st.
"THE ALBUM ABOUT NOTHING" sees Wale continuing his famed "ABOUT NOTHING" mixtape trilogy with his most eclectic, entertaining, and extraordinary album to date. As its title suggests, the album sees the GRAMMY®-nominated rapper continuing to express the inspiration of his favorite TV show, Seinfeld – a relationship that has since blossomed into a real life friendship between Wale and Jerry Seinfeld himself. The legendary comedian is prominently featured on "THE ALBUM ABOUT NOTHING," contributing skits and segments which fuel Wale's one-of-a-kind raps. The two superstars recently sat down at New York City's Remedy Diner for an exclusive cover feature in the December 2014/January 2015 issue of Complex (www.complex.com/covers/wale-seinfeld-interview-2014-cover-story)
* * *
Wale is of course one of the most idiosyncratic talents in hip-hop history. The Washington, DC-based rapper began unleashing his distinctive mixtapes in 2005, ultimately releasing his debut album, "ATTENTION DEFECIT," in 2009. He signed with Maybach Music Group in 2011 and soon unveiled his breakthrough second album, "AMBITION." Highlighted by such singles as the RIAA gold certified "Lotus Flower Bomb (Feat. Miguel)," the album debuted at #1 on both Billboard's "Top R&B/Hip-Hop Albums" and "Top Rap Albums" charts while also entering at #2 on the overall Billboard "Top 200 Albums" chart. High profile appearances on a variety of MMG releases followed, including label founder Rick Ross' RIAA gold certified, GRAMMY®-nominated "GOD FORGIVE, I DON'T," as well as all three volumes of the massively popular "MMG PRESENTS: SELF MADE" series.
The rapper's third studio album, "THE GIFTED," was released in June 2013 and proved a milestone, exploding to the #1 spot on the Billboard "Top 200 Albums" chart after its first week of release. What's more, the album's lead single, "Bad (Feat. Tiara Thomas)," achieved RIAA platinum certification for sales in excess of 1 million after ascending to the upper reaches of Billboard's "Hot 100" – Wale's highest charting hit single thus far.
For more information on Wale, visit www.walemusic.com, www.facebook.com/waleofficial, https://twitter.com/Wale, www.youtube.com/user/walemusic, & http://instagram.com/wale.