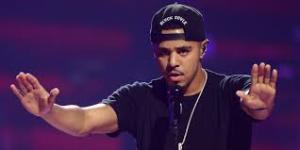 Here we go again!!  Apparently the D-BO of Detroit, Trick Trick is at it again.  Trick Trick has long been known as a Hip Hop gatekeeper in Detroit either through music or literally not letting in artists he feels disrespect his native city.  Now, Trick may have a new artist to lay the "No Fly Zone" over. Recently releasing his "Fire Squad" song, which takes a shot at Eminem, among other rappers, J. Cole may have gotten himself in trouble with Trick Trick.  During the track, Cole raps:  "History repeats itself and that's just how it goes," then follows up with, "Same way that these rappers always bite each other's flows / Same thing that my nigga Elvis did with rock 'n' roll / Justin Timberlake, Eminem and then Macklemore."
On Instagram, Marv O'Neal posted a picture of a recent Facebook status he made about the situation, questioning J. Cole's motives. Trick commented on it saying "He ain't poppin "Shit Shit" is he?????  I will lock the gate on that nigga!"  He also said Cole was building "himself an ass Whippin."  Earlier this year it was reported that Trick Trick imposed the so-called "No Fly Zone" on Rick Rossbecause he felt Ross never collaborates with artists from The D. The term stems from a song Trick did featuring Royce Da 5'9 of the same name.
I wonder what's next, with all the drama that is going on in Ferguson and other cities around the world, you would think something like this wouldn't be worth the press. But then again where are our priorities at right now.