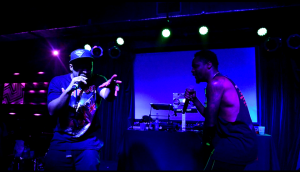 Often… we hear of the DJ that raps… or the producer that can rock the mic… But how about a world renown illustrator… Recently I caught up with SKAM2? to discuss his upcoming Hip Hop album…
Many know you for your incredible artwork… What would you like fans to know about you as a hip hop artist?
SKAM2? – Hard to say off rip, but I do put a premium on showing my range and versatility.
I have to ask… what is your most popular or recognizable art work?
SKAM2? – More than likely, the screaming vicodin pill from Eminem's "Slim Shady LP" disc. That album sold well over 12.5 million copies worldwide. Not to mention, I've seen a lot of tattoos and other people's drawings of it online.


Who inspired you mostly in Hip Hop?
SKAM2? – No one person. I draw vibes and ideas from a lot of things. Movies, books, video games, you name it. My music library has a whole lot of everything in it. Seriously.
What can the world expect from the SKAM2? Album?
SKAM2? – Every project will serve a different purpose, so don't expect anything. Roll the dice and hate me for that 45 minutes of your life that you will never get back.
What did it mean for you representing at J-Dilla weekend in Miami?
SKAM2? – It was definitely good vibes out there. People coming out to just to have a good time and enjoy some music. Ain't too many things better than getting to rock out with your homies.
How did the title for the album come about?
SKAM2? – Flying Monkey Murder Cirkus came from some lines in a freestyle I had called Super Random. I think I said something like "Them flying monkeys gon' murk me" and I was trying to design cover art for it and it came to me while going through reference for the cover art.
Why "Definition" for the first single?
SKAM2? – I got a lot of strong reactions on it. I like all the records that I choose to release, so there isn't much of a struggle for me when it comes to going where the vibe takes me. If that's what they want, f*ck it, that's what they get!
Who did you work with from a production standpoint on the album?
SKAM2? – Myself, Produced By Infamous (Lil Wayne, Drake), Kevin Rudolf (Selena Gomez, Timbaland), The Guild, MiamiBeatWave
This is more of a two part question… What is your opinion of the current state of hip hop? and where would you like to see it go from here?
SKAM2? – Current state… meh. I hear good. I hear bad. But in general, on this side of the pond, a lot of things outside of the actual "music" are pretty screwy. I'm so bombarded with what I'm doing that I really have no thoughts on where it should go. But I would like to see more acknowledgement & accolades given to those who show actual aptitude and innovation towards the craft.. but I feel like that about every form of art.
Much respect to SKAM2?
Check out the video for the lead single "Definition" off the upcoming " Flying Monkey Murder Cirkus"