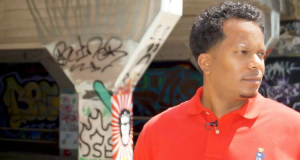 Hip Hop Icon Special Ed Launches Campaign for New Album One of Hip Hop's most respected legends brings back good music and gives back to the fans
Edward "Special Ed" Archer announced the upcoming release of his first studio album in more than a decade and accompanying Kickstarter campaign, which launched May 16. Considered to be hip hop royalty by most, Archer is enlisting the help of fans from all over the world to back his long awaited project.
Archer enjoyed incredible success in 1989 with hit singles like I Got It Made and I'm The Magnificent from the album Youngest In Charge, which cemented his place in hip hop history. His career has spanned over 20 years and has included television, film and producing music for a variety of major recording artists including Tupac Shakur, Biggie Smalls, and Junior Mafia.
Jay-Z pays homage to Special Ed in his chart-topping single Empire State of Mind featuring Alicia Keys; and Rick Ross remixed I'm The Magnificent proving that the Special Ed legacy is alive, well and thoroughly respected by today's music industry.
Archer's upcoming LP, tentatively titled The Return of King Edward will not only honor the golden age of hip hop, but will bring back meaningful message-based music with honest, thoughtful lyrics while still embracing today's fresh sounds and utilizing new media and technology.
"This project is long overdue," says Archer. "Although I never stopped performing and touring, it's time for me to bring the message of self-worth and pride back to the game. I'm needed, and I'm ready for the challenge."
As an independent artist, Archer decided to use the popular crowd-sourcing platform Kickstarter to solicit backers for the new album. The campaign will run for 30 days starting May 16 and has a goal to raise $100,000 to produce the album. The project is scheduled for a nationwide release in early fall.
"This is about giving the power back to the people," explains Archer. "Everybody that I see on the streets, at parties, at events and even online, always ask when I'm going to make another album, so I wanted to give them the chance to be an active part of the journey with me."
For campaign updates, follow @SpecialEd and @SpecialEdMusic on Twitter and Instagram, respectively.
Kickstarter Video Link: https://vimeo.com/127960674